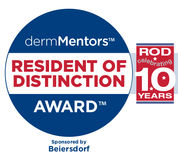 Coastal Dermatology Symposium
Live Online Platform
October 15-17, 2020
Sponsored by Beiersdorf, the award covers the cost of conference registration, and includes exclusive 1-on-1 Mentorship and Slide Review Sessions with national thought leaders in dermatology.
The 5 Residents selected will present their original research as part of the General Sessions at the Coastal Dermatology Symposium,
and will compete for full sponsorship to attend the live symposium in 2021.
Application opening: February 06, 2020 | Submission deadline: September 14, 2020
Eligibility
Applicant must be in year 1-3 of a US dermatology residency training program at the time of the meeting.
Application Criteria:
A letter of recommendation from the applicant's training director
An abstract summarizing the content of a proposed oral presentation to be delivered during the General Sessions
An abbreviated curriculum vitae (1-2 pages)
A personal statement indicating why the applicant should be selected (250 word maximum)
Sponsored by Beiersdorf, the dermMentors™ Resident of Distinction Award™ recognizes 10 US dermatology residents each year for their excellence and commitment to the future of dermatology.
Applicants not selected during a given award period have the option to keep their application open to be considered for future awards.
For more information about the dermMentors™ Resident of Distinction Award™, please email: info@dermmentors.org